Experience unique entertainment in a 360° gaming environment and break all highscores! In the SoccerBot360 you can not only train like the pros and talents of European top clubs to take you to the next level, but also play together or against friends for high scores! Play with or against each other in virtual gaming worlds for the ultimate fun factor. You still have no idea how to celebrate your birthday? How about a birthday challenge in SoccerBot360 with your best friends?  Also company events and team building actions can be realized in a cool way in the SoccerBot360! Just book a session and dive into our 360° sports world.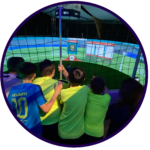 Events
Whether children's birthday parties, corporate or team events, the SoccerBot360 offers the perfect entertainment for all occasions with its numerous game modes.
Motion E-Sport
The combination of digital technology in a 360° environment and sporting activity makes the experience in Soccerbot360 so unique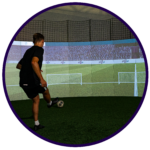 Professional Training
In the professional area, the training can be adapted exactly to the needs of the player, so that nothing stands in the way of an increase in performance.
Check session prices now and book at location